Event Dates:
April 10th - 13th, 2018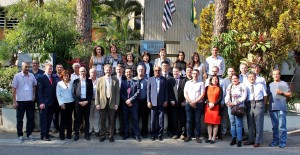 The 43rd Plenary of the Working Group on Calibration & Validation 
(Joint meeting with the 45th Meeting of the CEOS Working Group on Information Systems & Services)
Hosted by: The National Institute for Space Research (INPE, Brazil)
Location: São José dos Campos, SP, Brazil
The WGCV-43 meeting was held jointly with the Working Group on Information Systems & Services (WGISS) and addressed topics of common interest, as well as the CEOS 2018-20 Work Plan Objectives/Deliverables defined as an outcome of the last CEOS Plenary.
This area of common interest included Earth Observation Future Data Architectures (FDA) and the Copernicus Data and Information Access System (DIAS) for CEOS.  These were also covered in a half-day workshop on Wednesday.
The meeting provided an excellent opportunity for CEOS Agencies to present their achievements and share results and lessons learned with other agencies and to contribute to the definition and shaping of FDAs, standards, and approaches for making data available to users in the most effective way possible.
Agenda
Tuesday, April 10th, 2018 – Day 1
9:00
Convene
 
Joint Session with WGCV
* indicates remote presenter
9:00
Welcome and Introductions, adoption of Joint Plenary agenda
M. Albani, K. Thome
9:10
Host Welcome Opening Address
Dr. Ricardo Galvão, INPE Director
9:40
CEOS Executive Officer Report [ Presentation ]
S. Hosford
10:10
CEOS 2018-2020 Work Plan [ Presentation ]
S. Hosford
10:30
Break
 
10:50
GEO Secretariat Report [ Presentation ]
P. de Salvo*
11:10
CEOS Systems Engineering Office Report [ Presentation ]
B. Killough*
11:30
WGISS Overview [ Presentation ]
M. Albani
11:45
WGCV Overview [ Presentation ]
K. Thome
12:00
Overview of WGISS/WGCV Joint Effort; Past Achievements & Discussion [ Presentation ]
M. Albani, K. Thome
12:00
Lunch
 
13:30
Data Formats and Interoperability in the framework of FDA [ Presentation ]
R. Woodcock, M. Thankappan
14:00
Quality Indicators in Discovery Metadata [ Presentation ]
M. Morahan, N. Fox
14:30
CEOS Data Cubes and CEOS Test Sites Data Access in support to WGCV Activities [ Presentation ]
R. Woodcock, G. Stensaas
15:10
Break
 
15:30
Standardization and Best Practices (e.g. ISO 19159-3) [ Presentation ]
R. Moreno, C. Ong
16:00
Summary on Joint Interaction and Additional Opportunities;  Joint Recommendations to CEOS and GEO [ Presentation ]
M. Albani, K. Thome
17:00
Adjourn
 
Wednesday, April 11th, 2018 – Day 2
8:45
Convene
 
Workshop on Future Data Architectures (FDA) and Introduction of Copernicus Data and Information Access System (DIAS)
FDA Platforms and Elements Landscape
 
8:45
Introduction
M. Albani
8:50
FDA Context [ Presentation ]
S. Hosford
9:10

Exploitation Platforms and Common Reference Architecture 

[ Presentation ]

C. Lopes*
9:30
ESA Data Cubes [ Presentation ]
R. Leone*, A. Della Vecchia
9:50
Sentinel-2 ARD: Making the Process Operational [ Presentation ]
F. Moscato* 
10:10
Open Data Cube in Uganda [ Presentation ]
S. Reid*
10:30
Break
 
FDA Platforms and Elements Landscape, continued
 
10:50
Horizontal Scalability for the Colombian Data Cube [ Presentation ]
P. Lozano-Rivera, H. Castro*
11:10
Copernicus DIAS [ Presentation ]
M. Ditter
11:30
GeoHazards Exploitation Platform (GEP) [ Presentation ]
J. Patruno* 
11:40
BIOMASS Missions Application Platform (MAP) [ Presentation ]
A. Della Vecchia 
11:50
USGS Experiences With Cloud [ Presentation ]
K. Kline*
12:30
Lunch
 
 WGCV Business and Meeting Introduction 
13:30
Chair/Vice Chair welcome and opening  [ Presentation ]
K. Thome/C. Ong
14:00
Meeting overview, goals, and agenda approval [ Presentation ]
K. Thome
14:15
WGCV Chair's Report [ Presentation ]
K. Thome
14:45

WGISS/WGCV Session summary and WGCV Action Item Status 

[ Presentation ]

K. Thome
15:10
Break
 
Agency and Subgroup Reports
 
15:30
INPE [ Presentation ]
J. Soares
15:45
JAXA  [ Presentation ]
A. Kuze
16:00
CSIRO [ Presentation ]
C. Ong
16:15
GA [ Presentation ]
M. Thankappan
16:30
SAR Sub-Group Report [ Presentation ]
B. Chapman*
16:50
Day 2 Summary [ Presentation ]
K. Thome
17:00
Adjourn
 
Thursday, April 12th, 2018 – Day 3
9:00
Convene
 
Agency and Subgroup reporting
 
9:00
ISRO [ Presentation ]
A. Misra*
9:15
BelSpo / ACSG Sub-Group Report
J-C. Lambert*
9:50
IVOS Sub-Group Report [ Presentation ]
N. Fox
10:10
LPV Sub-Group Report [ Presentation ]
F. Camacho
10:30
Break
 
Subgroup and Task Group reporting
 
10:50
MW Sub-Group Report [ Presentation ]
X. Dong
11:10
ACIX Report [ Presentation ] [ Summary ]
K. Thome
11:20
On-going evaluation for the Evolution of DEM used in Copernicus Space Component Data Processing [ Presentation ]
P. Goryl
11:30
Cloud Mask update [ Presentation ]
P. Goryl/K. Thome
Agency Reports
 
11:45
NSSC [ Presentation ]
X. Dong
12:00
USGS [ Presentation ]
G. Stensaas
12:15
ESA [ Presentation ]
P. Goryl
12:30
DLR [ Presentation ]
A. von Bargen
12:45
Lunch
 
13:45
NASA [ Presentation ]
K. Thome 
WGCV CEOS Work Plan Status 
 
14:00
WGCV Work Plan Actions [ Presentation ]
K. Thome
14:20
Pre-launch calibration workshop [ Presentation ]
N. Fox, A. von Bargen
14:40
Surface reflectance validation [ Presentation ]
M. Thankappan
15:00
Break
 
15:20
Surface reflectance training course outcome [ Presentation ]
C. Barrientos Gajardo
15:35

Uncertainties for Analysis Ready Data 

[ Presentations: ARD | ARD Uncertainties | Reflectance Validation ]

All
16:15
Cal/Val for Greenhouse gases observation spectrometers [ Presentation ]
A. Kuze
16:30
Carbon actions update [ Presentation ]
K. Thome
17:00
Adjourn
 
Friday, April 13th, 2018 – Day 4
9:00
Convene
 
WGCV Business 
9:00
Day 3 Summary [ Presentation ]
K. Thome
9:15
WGClimate summary [ Presentation ]
A. von Bargen
9:30

Lessons from FDA and DIAS Workshop and applicability to WGCV

[ Presentation ]

C. Ong
9:45
RadCalNet Approval [ Presentation ]
K. Thome/M. Thankappan
10:00
GSICS solar irradiance approval [ Presentation ]
N. Fox
10:15
Web site update status 
J. Nickeson
10:30
Break
 
10:50
WGCV Newsletter, telecons and other outreach [ Presentation ]
K. Thome
11:00
Introduction of Akihiko Kuze, WGCV vice-chair candidate [ Presentation ]
A. Kuze
11:15
Future Meetings/Vice Chair [ Presentation ]
K. Thome
11:30
Action Item review and meeting wrap up [ Presentation ]
K. Thome