Purpose
All organizations holding EO space data have the responsibility to asses the relative value of their data holdings and to preserve them for the long term. Occasionally an organization must make the decision to "purge" one or more datasets that could be important to help meet the mission requirements of an agency. A Data Purge action permanently and irrecoverably removes all copies of an EO dataset held in an organization.
Scope
The "Data Purge Alert" procedure aims at preventing, or at least minimizing, the loss of EO space data. Organizations intending, for whatever reason, to purge an EO dataset, should apply the procedure (before purging the data) in order to inform other organizations with the goal to trigger a possible transfer of preservation responsibility to another interested entity.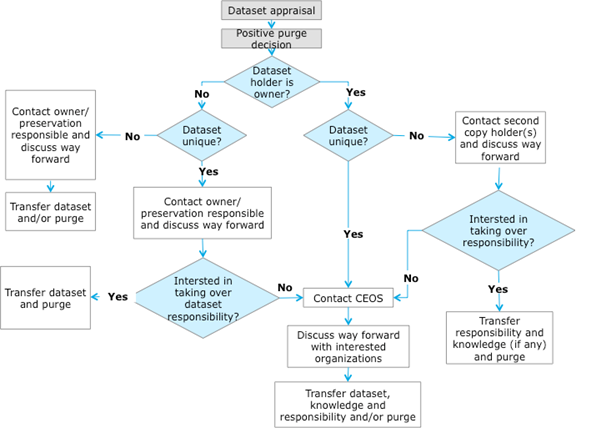 Communication and Coordination
To activate the procedure please contact the WGISS Chair of the purging intention when no interested entity has been directly identified, through the ad-hoc email (see https://ceos-dev.ceos.org/ourwork/workinggroups/wgiss/contacts/) with a description of the case, and using the following subject: <mission> Dataset to be purged 
Data Purge Alert Document
All relevant information are available in the following document:
---
Data Purge Alert News
---
September, 2017
USGS National Aerial Photography Program (NAPP) Black-and-White from Color Infrared Film Collection
Overview
The black-and-white derivative collection is a complete copy of the existing color-infrared film. The film is not contained in the USGS Earth Explorer finding tool. If a user needs black-and-white imagery, they can now create their own from the color-infrared easily. None of the film has been scanned, nor is it planned to be scanned. This collection consists of 2,427 rolls and 326,639 frames.  All of the film is on the standard 9-inch by 9-inch frame size.  The media is polyester safety film base.  Metadata is available for each frame.
Mission
The NAPP was coordinated by the USGS as an interagency project to acquire cloud-free aerial photographs at an altitude of 20,000 feet above mean terrain elevation. The photographs were taken with a 6-inch focal length lens at a scale of 1:40,000. Coverage over the conterminous United States includes both black-and-white (BW) and color infrared (CIR) aerial photographs. Film type and extent of coverage were determined by available funds and operational requirements. The NAPP program, which was operational from 1987 to 2007, consists of more than 1.3 million images. Photographs were acquired on 9-inch film and were centered over quarters of USGS 7.5-minute quadrangles.
Handling
The film should be maintained in a space maintained within temperatures ranges of 50 to 65o F and 30 to 40 percent relative humidity.
Point of Contact
For all inquiries, please contact John Faundeen, Archivist , U.S. Geological Survey, EROS Center, 47914-252nd Street, Sioux Falls, SD 57198 USA Office Tel : 605-594-6092 Mobile: 605-838-7081 faundeen@usgs.gov.
Organizations interested in taking over the responsibility of preserving and maintaining the aforementioned collection should contact the WGISS chair (mirko.albani@esa.int) within three months from the 9/27/17 publication of this news. 
---
USGS Landsat MSS & TM Film
U.S. Geological Survey intends to dispose of its Landsat Multispectral Scanner (MSS) and Thematic Mapper (TM) satellite film that have digital sources. This film was created between 1972 and 1992.
Approximately two million frames from 9-inch and 70-mm film with an approximate volume of 5,180 cubic feet are being offered to any organization willing to pay the shipping costs. Organizations interested in taking over the responsibility of preserving and maintaining the aforementioned Landsat film collection should contact the WGISS Chair (mirko.albani@esa.int) within three months from the publication of this news. The imagery is considered to be Public Domain so there are no use restrictions.