The Earth Observation Training, Education, and Capacity Development Network
---
The Earth Observation Training, Education, and Capacity Development Network, or EOTEC DevNet, is a network of networks created to improve coordination and engagement of Earth Observation asset and training providers in support of key global sustainable development outcomes.
Many networks, including those in the diagram below, are contributing to Earth Observation capacity development through their own global networks. Each of these organizations shares interests and maintains existing relationships that can be leveraged to bring the power of Earth Observations to more users. In short, this is the goal of EOTEC DevNet.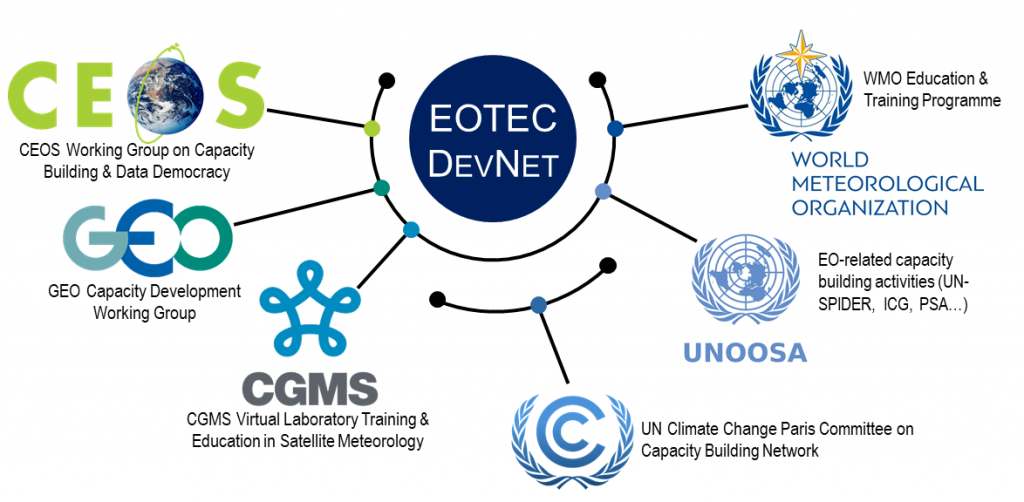 Part of the CEOS Work Plan 2020-2022, EOTEC DevNet is currently a two-year pilot with WGCapD initiating a new Task Team, called the EOTEC DevNet Task Team, to implement EOTEC DevNet tasks. Upon evaluation of the pilot, including approaches to sustainability, the open initiative may then be based elsewhere in the network.
---
Why should you participate in EOTEC DevNet?
Exchange knowledge: leadership coordination meetings and regular meetings of the practitioner community among capacity building professionals will serve as a marketplace to facilitate information and knowledge flows, greater global and regional communication will be enabled between the participants in the multiple networks.
Coordinate your activities: Through greater communication, EOTEC DevNet will improve strategic and ad hoc coordination of activities across members.
Identify gaps and needs: Through systematic assessment of capacity development resources and current state of skills to use them, gaps will be identified, and approaches developed to close the gap, leading to improved application of EO to meet the sustainability framework goals by 2030.
How can you participate in EOTEC DevNet?
Regional Leads
We are seeking motivated leaders to run our regional Communities of Practice! Please review the Community of Practice Leadership Guidance to learn more about these positions. We have opportunities available for professionals engaged in Capacity Development and Subject Matter Experts with expertise in floods and drought.
If you are interested in learning more about these roles, please contact the EOTEC DevNet Secretariat: Yasha Moz (yakov.m.moz@nasa.gov) and Sydney Neugebauer (sydney.e.neugebauer@nasa.gov) and let us know which region you would like to represent (Asia/Oceania, Africa, Europe, or the Americas).
Community of Practice Leadership Guidance
Task Team
If you would like to join the EOTEC DevNet task team to help coordinate our activities, email the Secretariat: Yasha Moz (yakov.m.moz@nasa.gov) and Sydney Neugebauer (sydney.e.neugebauer@nasa.gov)
Meetings
The first official EOTEC DevNet regional meetings took place on June 14, 2021. Over 90 individuals participated in our 4 regional exchanges to discuss the operations of EOTEC DevNet and advance our work on capacity development related to flooding through the EOTEC DevNet Floods Tracker (prototype expected in late summer, 2021). You can find the slides for the meeting here.
The next EOTEC DevNet regional meetings will be held virtually on September 21, 2021 and will continue our work on floods and begin to explore drought. More information coming soon!
The first EOTEC DevNet leadership meeting will convene virtually on September 10, 2021. More information coming soon!