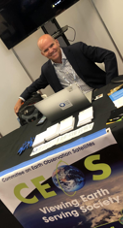 The CEOS Systems Engineering Office (SEO) provides systems engineering leadership and support to CEOS through technical and management services and the development of tools for societal benefit.
The SEO was conceived by NASA in 2007, as a contribution to CEOS, and is currently led by NASA. NASA currently utilizes a mix of NASA and ESA employees and contractors representing various CEOS Agencies to meet SEO objectives.
Technical functions: systems engineering tool development, requirements and gap assessments, data acquisition planning, special projects.
Management functions: improving communications through web-based tools, managing CEOS social media, meeting logistics, developing education and outreach products.
Terms of Reference: CEOS Systems Engineering Office (SEO)
CEOS Visualization Environment (COVE)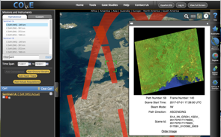 The SEO developed the CEOS Visualization Environment (COVE) – a browser-based suite of tools for searching, analyzing, and visualizing actual and potential satellite sensor coverage.
COVE is free and open for anyone to use! The tool includes over 131 missions and is linked to mission archives to get metadata and browse images for: Landsat-5/7/8, Sentinel-1, and Sentinel-2.
COVE's tools include: Acquisition Forecaster (past and future groundtracks), Coverage Analyzer (past acquisitions and browse images), Data Browser (data filtering), Data Policy (link to portal), and Utilities (swath calculator).
Open Data Cube
The Open Data Cube (ODC) is an open source geospatial data management and analysis software project that helps users harness the power of satellite data. The ODC seeks to increase the value and impact of global Earth observation satellite data by providing an open and freely accessible exploitation architecture.
The SEO is the CEOS representative to the ODC initiative and has made significant contributions to project governance, the core code base, analysis scripts and tools, identifying and sourcing various Analysis Ready Data (ARD), and aided various end users in their effort to establish ODC instances. The SEO was a key partner in the African Regional Data Cube, providing testing and training for five countries in Africa.
Other Activities
The SEO supports and contributes to the work of various CEOS working teams, including in the following ways:
LSI-VC: contributed to the development of the CEOS ARD for Land (CARD4L) Product Family Specifications, data acquisition planning for the LSI-GEOGLAM and LSI-Forests & Biomass subgroups, provision of GFOI Country Coverage Reports via COVE.
WGCapD: development of the CEOS Training Database.
WGISS: development of the Open Source Software Inventory Tool.
CEOS MIM Database Team: working with ESA to add new data, testing of API and gap analysis tools.
SDG-AHT: development, testing and sharing of SDG algorithms within the ODC framework.
The SEO also manages the CEOS website and social media, supports meeting logistics across many CEOS groups, runs the CEOS information booth at various events including the annual GEO Week, and produces various outreach and promotional materials:
Contact Us
Meet Brian Killough, Head of the CEOS SEO: 
---
---